Here we are back in school, and there's a lot going on in our first full month!
Director's Coffee
: 
Wed. Sept.
 4 – 9:15-10am on the patio (we'll move inside if it's too hot!) This is a fun opportunity for our families to mingle and hang out a bit, getting to know one another.
Dance Starts – Sept. 4 
– Wednesdays from 1pm-1:45 –  Stardreams Dance and Gymnastics comes to teach music and movement classes! This fun blend of ballet, jazz, and creative movement also includes some tumbling.  
 Download a sign up form for more info.
Sports – Starts Sept. 9 & 10 – Mondays and Tuesdays from 1-2pm – Coach Joel's sports sessions are geared geared especially towards preschoolers.  This round of combo fun is soccer and basketball. The emphasis is on team play and cooperative challenges, not on keeping score. Download a sign up form for more info.
Vision Screening – Sept. 9 & 10 – The Elks Club is providing a free vision screening on campus on these days. To participate, please fill out a permission slip and your contact info on a screening form. These forms are available in the office and in each classroom.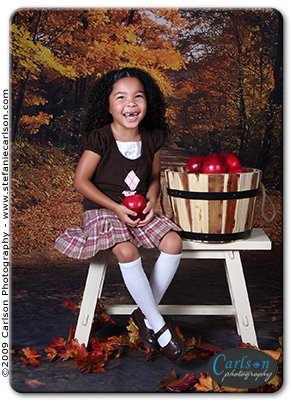 School Pictures – Sept. 12 & 13 – every class has a reminder paper up with the actual backdrop that is being used for the pictures.   Children will be photographed individually and with their class. (If you have not approved professional pictures on your Field Trip/Photo form, your child will not be photographed for either picture set, in accordance with your wishes.) Blue and Orange room have picture day on Friday.
This is a sample of the exact background shown here too!  Questions? See Mrs. Stefanie in the office.  There is also a school pictures FAQ page online at the Carlson Photography web site. 
Music Class – Music with Mrs. Karen starts Mon/Tues Sept 16 & 17! We're excited to have her back with us every other week for the music enrichment program full of songs, puppets, finger plays, and instruments we get to play!
Chuck E Cheese Night: Sept. 17 from 3-9pm at the Orange Chuck E Cheese.  This is a great time for us to gather as a school and just have fun getting to know one another.  Alumni and friends are always welcome to join us.  This is also a school fundraiser, and all purchases of food and tokens at the counter will count towards our school's gate fund!  (Stock up on tokens for future visits on this night too!)
Big John the Fire Truck Visits: Wed. Sept. 18 for MWF, Blue and Green room classes. He will return on Sept. 26 for our T-Th classes.  Big John is a talking fire truck to help us learn about fire safety and he's staffed by real fire fighters who will show us how they look in their special protective gear. We'll learn about 911 and "stop, drop, and roll" too!  You're invited to come join us (and bring your cameras) for this fun on-campus field trip. This is also a great day to wear your Creek t-shirts!
Wed. Sept. 18 – 9:15am Blue and Orange
Wed. Sept. 18  – 10 am Yellow, Red, and Green
Thurs Sept. 26 – 9:15am Red, Yellow, and Purple
Bake Sale – Sept. 19 & 20
 – Our Orange Room starts off the monthly bake sales with all proceeds going to Mrs. Nicole's classroom for special supplies and surprises. Come ready to buy some sweet treats!
Grandparents Day Chapel & Treat – Sept. 26 & 27 11:15am
 (Blue on Thurs, Orange on Friday – they're leading our chapel for us!).  Invite the grandparents (or a special family member or friend can substitute) to come join us for a special time of chapel together followed by a classroom treat.  Please RSVP to your child's teacher so they know how many grandparents to expect – we want to make sure we're prepared to celebrate each one of them!
Were excited about this school year, and we're off to a great start full of fun and learning!
Don't forget that if you need to reach us, you can 
connect on Facebook,
 email us at info@thecreekpreschool.org, call us at 714 633-0402 or use the after hours voicemail at 714 497-0581 or stop in at the office.