Here comes March! We're in the last days of February, and its been quite a busy month.  We still have chapel on Thursday and Friday (11:40am) led by the Red Room, and Mrs. Jennifer's Yellow Room has bake sale too! Don't let the incoming rain stop you from stopping by the bake sale table – they'll have lots of yummy treats for sale!
Daddy N Me Night was a great success! We hope that everyone enjoyed this fun time of crafts, and that Mommy was quite surprised and delighted with her present.
We also were visited by the Tooth Fairy, who came to teach us about the importance of taking care of our teeth (when she's not swapping out teeth for money at night, she works at a dental office).  And our Kindergarten class attended a special off campus field trip to the Planetarium at Santa Ana College to learn about outer space!
Coming Up in March…
REGISTRATION FOR FALL 2014 Opens March 1
to the Public – 
Registration is currently open for you, with a discounted registration fee that's valid through March 28.  
Learn more about classes and schedules for next year here.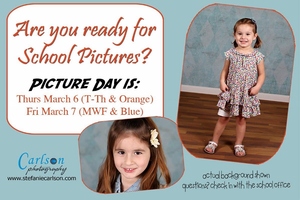 Picture Day: It's time for Spring Pictures!  Children will be photographed individually and with their class (unless you've opted out for pro pictures on your paperwork).
Thursday March 6  for Red, Yellow, Purple, & Orange
Friday March 7  for  Red, Yellow, Purple, Green & Blue
Thursday March 6 is Siblings Day, by appointment in the afternoon. See Mrs. Stefanie in the office to schedule a time for non-Creek older or younger siblings to get their portraits done.
Developmental Readiness Screenings for Kindergarten/1st Grade Readiness are March 10 & 11. All pre-K and K classes received a packet in their bucket; if you have a younger child and are interested in the screenings, please stop by the office to pick up a packet.
The Chancy Bruce testing is a great way to see your child's developmental age in a variety of situations, and can be a great resource for helping strengthen areas of their development as we prepare them for elementary school. There is a parent meeting to go over results on March 26 at 7pm at The Creek.
Chapel – March 13 & 14, we're learning about "The Boys and Girls and Jesus" and how much he loves and values children. The Purple Room will be leading us!
Bake Sale – March's bake sale benefits Purple Room and will be on the 27 & 28.
OPEN HOUSE – March 28 6-7:30pm   The Creek is showcasing all the children's hard work in this community night!  Visit preschool, pre-kindergarten, and kindergarten rooms and see what all the kids have been working on. In addition to the classrooms being open, there is a community information area with vendors and a dinner food booth for a fun and festive night.
Spring Break – March 31 through April 4 – The Creek is closed, but Coach Joel is running camp for kids preschool through 5th grade.  Learn more here or contact him 714 728-3237.